A countertop may do more to define the décor of a kitchen or bathroom than any other single remodeling improvement a homeowner can achieve. As the center of attention, they create the ambiance that homeowners can use to establish an atmosphere of casual comfort or luxurious sophistication. The top 10 countertops, listed alphabetically, offer buyers a basis for comparison of advantages and disadvantages, price per square foot and style. You can visit our design center to learn more about the type of countertops that will work best for your home.
Ceramic Tile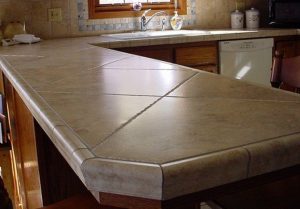 Durability and cleanliness make ceramic tile an excellent choice for countertops in baths, but they can work well in kitchens too. Not as expensive as most other materials, tiles offer an economical option for countertops and with little effort are a very doable project for do-it-yourselfers. If you want to use specialty or luxury tiles, the cost does increase, but you can create a truly magnificent, even one of a kind design. Resistance to heat protects tiles from damage, and the range of colors lets them adapt to any home décor. Ceramic tiles can break or crack under impact, so some care is needed. While grout may be made to complement the tile colors, stains can affect it and present challenges in cleaning.
Concrete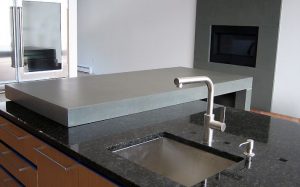 Anyone who has any interest in construction may enjoy seeing the changes in concrete applications that technology has made possible. No longer just the gray workhorse of the construction industry, it has undergone a transformation with stains and textures that let it look like expensive natural stone in the bath or kitchen. Although usually less than natural stone or quartz options, concrete can be moderately expensive. Keep in mind that a poured concrete countertop should only be tackled by experienced craftsmen and asking for examples of a contractor's previous work is wise because concrete can be a mix of art and science.
Granite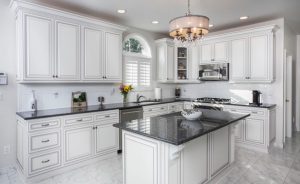 Depending upon the quality, size of slab and coloration, granite countertops can be moderately to extremely expensive, but conveys luxury and elegance in any home decor. As many as 3,000 colors in the natural material create countertops that have unparalleled beauty. Strong, durable and capable of resisting the effects of heat, granite slabs increase a home's value and create dramatic beauty as well. Almost maintenance-free, granite provides an excellent workspace in the kitchen, but it may dull sharp knives. The porosity of granite requires a sealer to prevent staining.
Laminate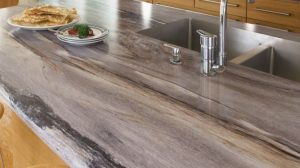 A price of $10 to $30 per sq. ft. for a prefabricated countertop makes a laminate countetop an affordable option for remodeling a kitchen or bath. Custom-fabrication can double the price, but both types of countertops install well by knowledgeable owners who enjoy do-it-yourself projects. Layers of plastic bond to particle board and provide a smooth, clean surface that can mimic expensive materials such as granite or marble and others. The seams remain visible, and although quite durable the surface can sustain irreparable scratches and chips.
Marble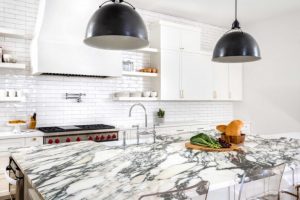 Usually a little more expensive than granite, solid slabs of marble impart an elegance that is virtually unmatched. Its extraordinary beauty makes it a perfect accent for a kitchen island countertop that may not be subjected to stains or scratches. Sealers can help protect marble, but the lustrous and highly veined nature is more susceptible to damage than granite. Stains from certain foods and products such as hair color that people use in the bathroom can permanently damage the soft, porous stone that scratches easily as well.
Quartz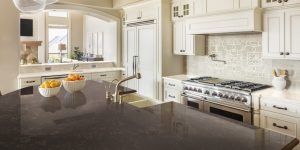 Quarries do not produce slabs of quartz, but engineering practices compress particles with other minerals and resins to create them. Manufacturers produce uniformity without imperfections for less than most quarried slab options. As a stone that has more durability than granite or marble, its surface resists acids, heat, stains and scratches without sealing. In the bath or kitchen, it creates a distinctive aura of elegance. Although possible to install as a do-it-yourself project, quartz countertops require handling of extremely heavy slabs.
Soapstone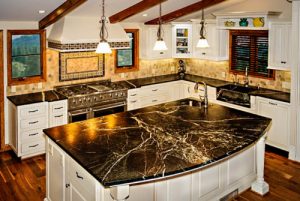 A natural stone that can impart an antique or historical effect to a kitchen or bath, soapstone countertops cost less than granite or marble and usually even quartz. A white or dark gray color that may darken with time, it can complement a subtle kitchen décor or create sedate luxury in a bath. While a hard surface, soapstone can sustain scratches that sanding can remove. Not suitable for do-it-yourself projects, soapstone has a radiant beauty that requires treatment with olive oil.
Solid Surface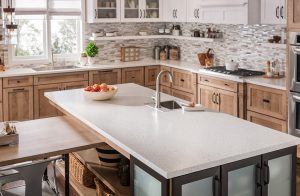 In roughly the same price range as laminate, solid surface countertops consist of components that manufacturers press into sheets and form into depressions for sinks. An inexpensive representation of natural stone solid surface countertops offer a variety of colors and patterns that resist stains in the bath or kitchen. Unable to withstand the high heat of pots or curling irons, it requires owners to take care in protecting it. The joints seem invisible, and sanding can remove damage to the surface.
Stainless Steel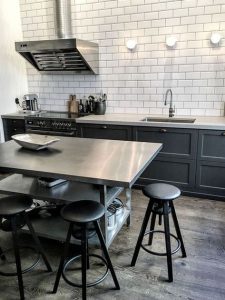 A contemporary look that blends well with the current trends for a monochromatic choice of appliances, stainless steel countertops can contribute to a coordinated effect in a kitchen. Highly durable and resistant to heat, the custom-built countertops have no seams. However, their durability does not extend to resisting a sharp knife's blade, and the surface can scratch, although some would argue it adds to the appeal. Impervious to liquids, they offer the least demanding maintenance and cleaning processes of all countertop materials. Stainless steel is expensive, but provides a professional kitchen look and can add significantly to a home's value. With nothing to absorb sound, the metal countertops does tend to make a kitchen somewhat noisy, but consider using stainless steel for just one portion of the kitchen. Perhaps in the corner between the sink and stove, or on an island where you do a lot of prep work.
Wood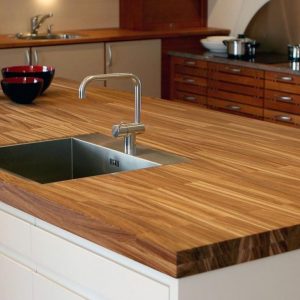 The natural beauty of wood may make it a choice for rustic or contemporary countertop styles, but its tendency to warp when wet eliminates it from consideration for bathrooms. The warm and quaint appearance that wood creates can add charm and distinction to a kitchen. While easy to clean, it can allow bacteria to grow if not cleaned regularly after use. Wood can also crack without frequent applications of oil and sealer, so maintenance is required. Wood countertops can vary in price from modest to expensive, depending upon the design and wood selected. They are susceptible to scratch and stain, but sanding can help to remove damage. Wood countertops, like stainless steel, can also be used in select places, rather than throughout the kitchen, to provide a beautiful accent.
If you have any questions about any of these material choices and what would work best in your home, the experts at our Marson & Marson Design Showroom in Leavenworth are an invaluable resource and happy to answer any questions you might have.